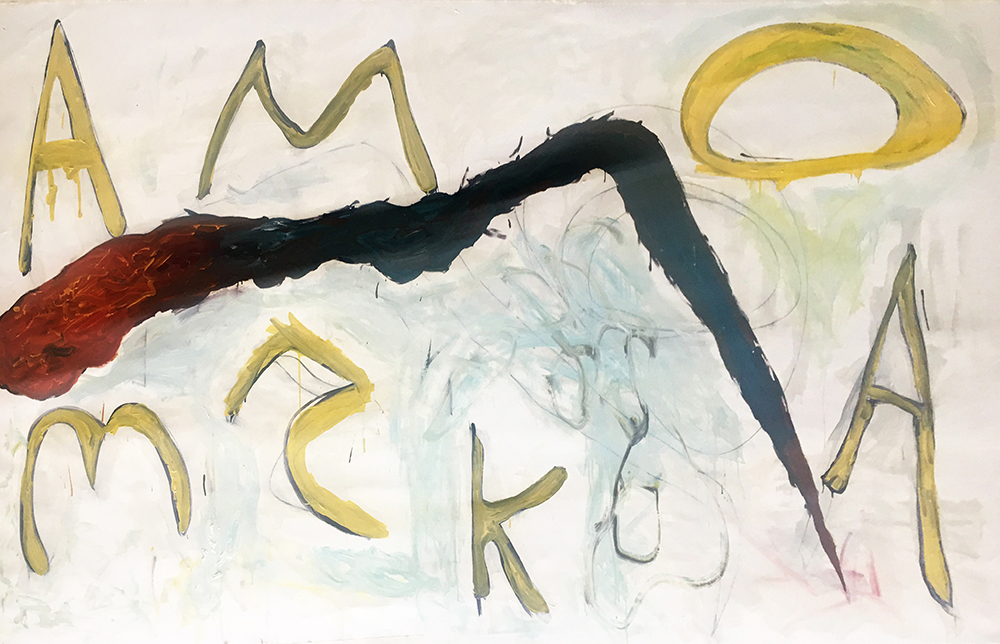 27 May at 7 pm we are pleased to invite you to the exhibition Mommie, the outcome of Zhenya Muzalevsky's residency.
For Zhenya Muzalevsky it is important to create a painting, which is going to make an impression, to establish sensorial contact, to impress. The young artist maneuvers from one genre to another, from one technique to another in an attempt to make an impact with his work on a physical level.
Zhenya always comes up with various figures of living beings, women, men, birds, and insects. In his works we can often see a figure of a woman or a sexless being, endowed with a certain set of characteristics such as aggressiveness, sexuality, lack of self-confidence, fear.
… "In primary school I got free breakfasts, however, one day a certain accountant failed to put a stamp on some document, so they decided not to feed me. Since I was not given any money for breakfast, all I had to do was suffer during the lessons, while a fried chicken with instant mashed potatoes waited for me at home: normally I was not allowed any chemically produced food but at that point my mother gave me permission to have it.
Exhausted, I went back home, carrying my heavy backpack and thinking that everything was going to change soon. I knocked on the door, my mother opened it; the corridor, the shoes, the view of the drawing room where my friend was sitting in front of the TV and playing Dendy video game console. I asked what he was doing there. She answered: "He came here to walk with you and I let him in so that he could wait while you were at school." I started worrying because he was playing our favorite game Battle City. I said I was terribly hungry.
She replied: "Your friend has eaten everything, now we need to go to the shop, to buy food and cook it. I cried, I was in pain, I could not understand why all that was happening to me. I was shaking, I cried and could not stop, my stepfather was laughing through the crack between the door and the wall; I ascended the stairs and went to the kiosk in the green building."
Zhenya Muzalevsky
Media partner: ArtTube
Studio of the Foundation of Vladimir Smirnov and Konstantin Sorokin
Duration: 28.05 – 31.05.2019