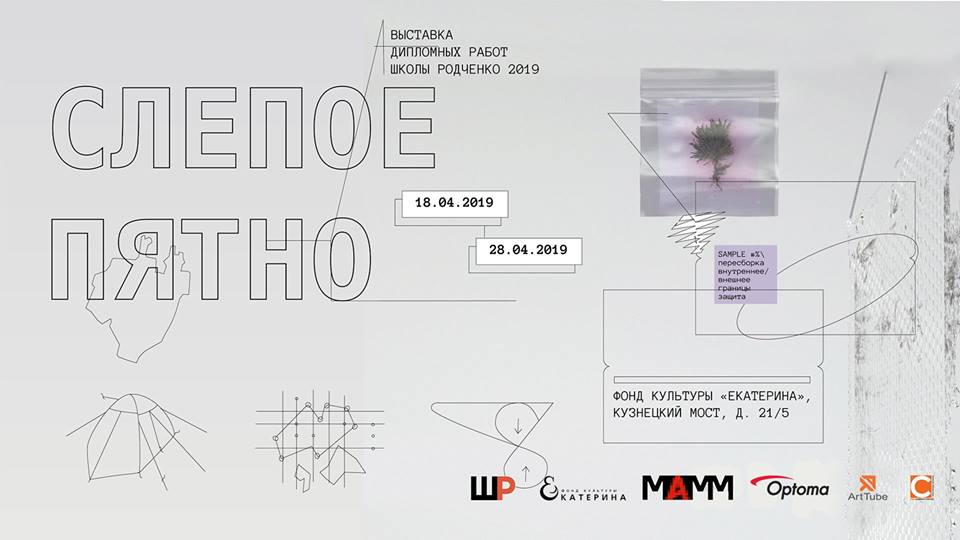 The opening of the exhibition: 17.04.2019 at 19.00.
CONCEPT
A blind spot is an innate particularity of perception. Human beings are used to not noticing many things that remain in this gap, moreover, our vision often extends only to essential aspects of life that suffice for a comfortable existence.
The rugged terrain of the exhibition, which cannot be mapped in detail, is the result of various transformations the students undergo during their course. Its landscape is composed of linguistic ornaments and also the remnants of non-linguistic communication, translation of speech into the visual and the visual into sound.
Many projects are characterized by mobility, by the changeability of boundaries and relations with the viewer. The authors create environments and situations that frequently imply a refusal of objectivity in favor of performative and perceptual experience.
Sometimes, while aspiring to the new, we suddenly find ourselves re-engaging in a familiar pattern. The inclination towards horizontal interaction may, paradoxically, lead the artist to protect the boundaries of the work and the 'system of permits' for the viewer, to an attempt to repress interpretation and control attention. After recognizing these features the artists decide they have no wish to issue a directive to themselves or the viewer, thereby reproducing the typical behavior of power structures, states or institutions.
We see the main aim of artistic practice as the detection and highlighting of blind spots within the art community and on other levels, in transforming them into a space of mutual trust, an equal dialogue, where there is no need to protect your own boundaries.
Text: Julia Vergazova, Elizaveta Kanatova, Elizaveta Kanatova, Sasha Puchkova
ARTISTS:
Olga Vavina, Kira Vainshtein, Julia Vergazova, Stepan Vladovsky, Tamara Gogoleva, Karina Gradusova, Andrey Isakin, Elizaveta Kanatova, Ekaterina Karaseva, Alena Lipatova, Anastasia Lobanova, Anna Lyalina, Maria Molokova, Valentina Novikova, Sofia Pankevich, Ekaterina Pryanichnikova, Sasha Puchkova, Pavel Seldemirov, Alyosha Smolyannikov, Vasiliy Sumin, Katerina Trubina, Ellina Khalyapina, Konstantin Tsokur, Ksenia Tsykunova, Darya Chermoshanskaya, Evgeny Yuminov.
Expositioner: Sergey Bratkov
Architect: Vladimir Rostov
Coordinator: Lana Abramova
Cover: Sasha Puchkova
Partners: Multimedia Art Museum, Moscow (MAMM), Ekaterina Cultural Foundation, The Foundation of Vladimir Smirnov and Konstantin Sorokin, Optoma.
18.04 – 28.04.2019
Free entrance.
Ekaterina Cultural Foundation
Address: Moscow, 21/5 Kuznetsky Most