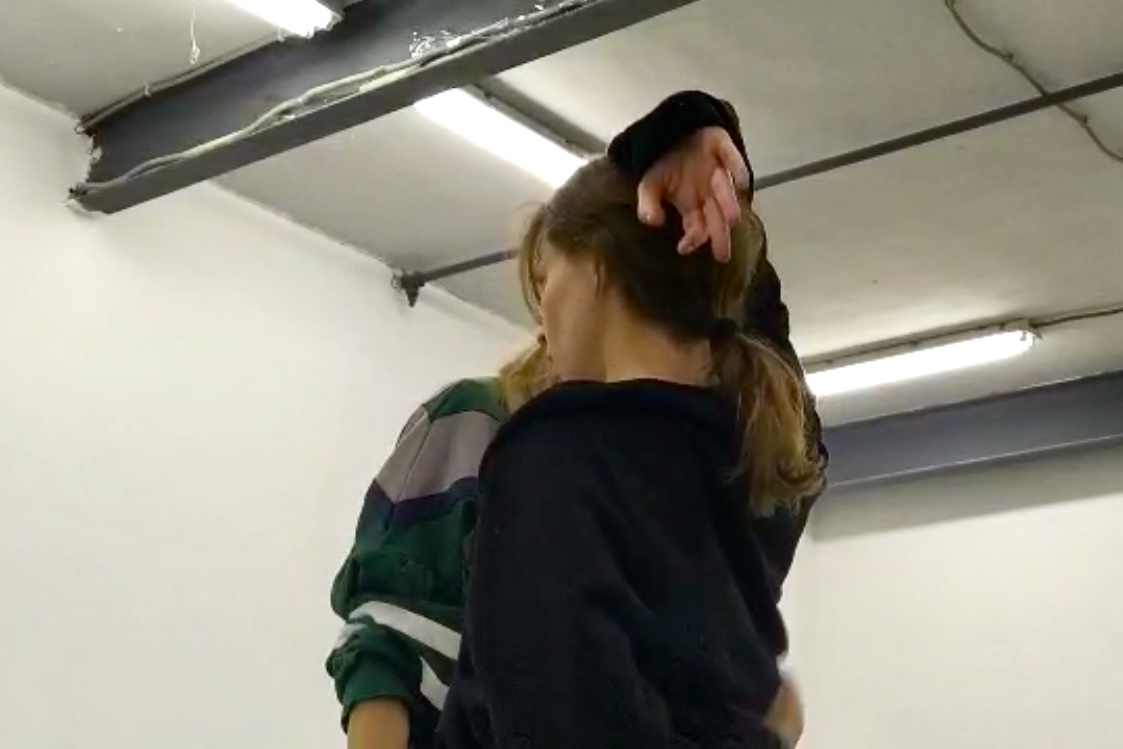 4 and 5 March 2020 / 6 pm – 9 pm
Anastasia Tolchneva (Lovozero) and Anya Kravchenko
Encampment
Discussions and practices
Media partner: ArtTube
Studio of the Foundation of Vladimir Smirnov and Konstantin Sorokin
In 2019 Anastasia Tolchneva (Lovozero) and Anya Kravchenko, in cooperation with the project Fabric (1) and a team of artists (2) developed two performances: descend and and those unwelcomed at the venue of Mutabor nightclub. Both works addressed the dynamic of human matter, mutations and other processes, excluded from the rationalized mundane attention. Continuing this research in the studio of the Foundation of Vladimir Smirnov and Konstantin Sorokin, Anastasia and Anya are going to start a camp which, during two evenings, will become a place where everyone will be able to observe and comment on the practices, developed by the artists.
On each of the two days we are going to receive guests during three hours, divided into 1.5 hour sessions: (1) conversation (2) meditations. During the first session we are going to tell you how we developed our works and which ideas inspired us. During the second session we are going to offer you practices, connected with various aspects of perception and interaction (hearing, smell, movement). Guests are encouraged to join one of the sessions or both of them.
"The process of development of these works was similar to urgent mobilization and helped us to discover certain aspects of our practice, which we would like to transfer to different circumstances and observe them as objects. One of these aspects is work with anatomic images in movement, creating specific conditions for re-defining oneself in the realm of phenomena and ideas. We want to divide our kitchen of observation of oneself under specially prepared circumstances and see which forms this may bring us to in the future."
Anya and Nastya about the project.
_______
1. Since 2019 the series has been organized by Masha Kharitonova and Andrey Zailer, every event invites musicians and artists to develop synthetic projects at club venues and to aspire "to intertwine heterogeneous music with performative disciplines and contexts."
2. Descend was developed in collaboration with dance-artists Anton Vdovichenko, Kamil Mustafayev, Valentina Lutsenko and Alina Guzhva and shared space with the objects of Polina Zhuravkova, Vika Kharkevich, and Fyodor Krotkov. And those unwelcomed was developed together with Masha Kharitonova and also shared space with the objects, created by Katya Starostina, Sasha Budarina, Masha Kharitonova, Denis Drachev, Sasha Nguyen, Boris Obida, Yakov Mironichev, Ilya Volume, Natalia Serikova, Philip Nikolayevnko, as well as the aroma The Cell NJ Neumann (Lili Neumann). In both performances Sasha Nguyen and Sasha Umnova designed the costumes.
Anya Kravchenko (born in 1985 in Berdyansk) is an artist, dancer, choreographer, creating performances, videos, scores, publications, laboratories as forms of practice of unambiguous interaction between the bodies of different nature, independently and in collaboration with such artists as Anastasia Tolchneva, Sasha Konnikova, Valentina Lutsenko, Marina Shamova, and others. She is the co-founder of roomfor.ru, a resource about modern dance. Anya is a graduate of the MA program on modern choreography e.x.e.r.c.e (Montpellie, 2015 – 2017). Since 2018 she has lived in St. Petersburg, where together with Anton Vdovichenko, Kamil Mustafayev, and Masha Sheshukova she has supported the work of the studio of performative arts SDVIG.
Anastasia Tolchneva (aka Lovozero) is a musician and artist, working at the intersection of sound, technological, and performative practices. She is a co-founder of an аrt&sience project save.co.lab, in collaboration with which she presented in 2016 the performance 50 Hz (Cyberfest, 2016). In 2017 she released her solo album Moroka in the framework of the project Lovozero with the label Full of Nothing. In collaboration with artist ::vtol:: she presented the robotized vocal performance you, me and all these machines at the exhibition Future Love (House of Electronic Arts Basel, Switzerland, 2018). She is a co-author of the concert-practice
m e r t s a n i e, presented together with choreographer Anya Kravchenko (ISSMAG gallery, 2018). Anastasia is the author of the sound installation NETTO, presented in the framework of the project The Moscow Solos. Kunsthalle of Music (the V-A-C Foundation, 2019). She won the Sergey Kuryokhin Contemporary Art Award in the category Ethno mechanics (2017). She is a co-curator of the performances DESCEND and AND THOSE UNWELCOMED in the framework of the series of events of experimental music Fabric (Mutabor, 2019).