Artists: Svetlana Shuvaeva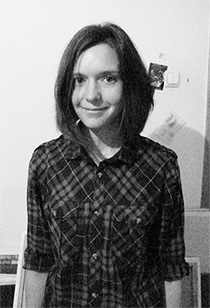 Place of Birth: Bugulma, Tatarstan
Bio:
Among the first works by Shuvaeva, presented to the general public, were the so-called Scans – prints on canvases, created by scanning the moving TV image. It was hard to define the particular genre of the resulting abstract images – they looked like abstract expressionism and at the same time like distortions of a TV picture. This "freezing" of a visual image in the space of non-distinction is in the focus of Shuvaeva's attention.
For the first time the Moscow audience could see her works in 2009 – at the international exhibition Transfer. It was the series titled Oilcloths, created by putting a graphic grid onto polyethylene cloths with distinctive floral patterns. Juxtaposition of two types of patterns: flowers of various colors and a thick, almost non-transparent grid created an amazing effect of gleaming, shining – as if between the two decorated layers an electrochemical reaction had taken place and some energy, turning graphics into painting and giving it depth, had been emitted.
An interest in self-appearing painting or in "readymade painting" – this is how we could define the principal vector of Svetlana Shuvaeva's aspirations today. This is what the internationally acclaimed series Montage Reels is dedicated to. The formal plot of her works – the stripe of the so-called signal scotch – the adhesive tape, which is used in construction and urban improvement. Svetlana Shuvaeva's attention does not move from the painting towards reality – vice versa, it moves from the three-dimensional space of mundane life towards the painting. Shuvaeva's method is simple, but not naïve – she marks the space by introducing the symbol for space. Montage reels are lying upon each other, and, no matter how thin they are, they still have a certain depth, which means that there is the painting zone, visibly separated from the zone of the exhibition hall.
Svetlana Shuvaeva was born in 1986.
She graduated from Samara State University of Architecture and Civil Engineering (the Department of Design).